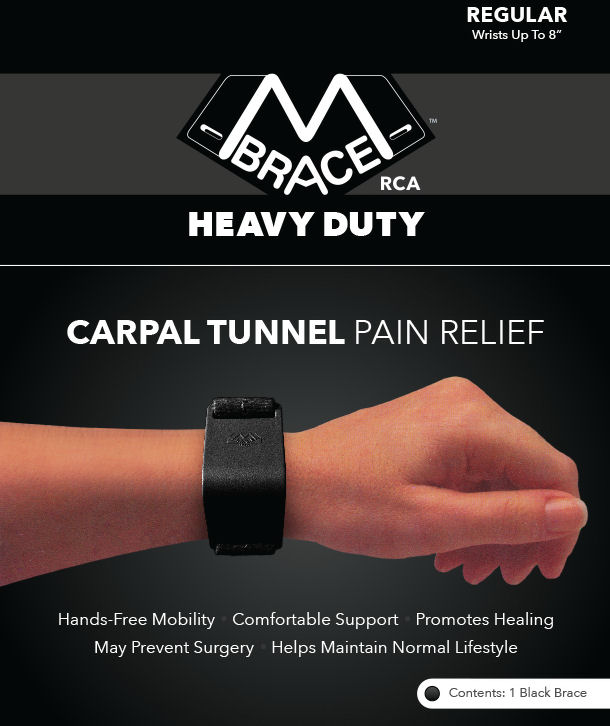 How to Order BLACK - HEAVY DUTY - M BRACE RCA *ONLY*
Great News: M Brace RCA Carpal Tunnel Treatment Wrist Support units are now available directly from Amazon.com at only $24.95 per unit (in Color Black) with Amazon's Money-Back Guaranty. That's a $5 savings off the single-unit price if you purchase via Amazon because there is no shipping charge when your order is Fulfilled by Amazon and you choose the Free Super Saver Shipping option. (A $25 minimum Amazon.com purchase amount is currently required to qualify for Amazon "Super-Saver" Shipping.) "Prime" members are eligible to receive Free Two-Day shipping! Click Here for the link to the M BRACE RCA Amazon.com listing.
Credit Card Payment Via PayPal
You may use your credit card to place your USA order via PayPal even if you do NOT have a PayPal account. There is no fee for the use of the PayPal service. ALL major credit cards are accepted. Your credit card information will remain confidential via PayPal's secure server and will not be disclosed to www.wrist-pain.com.

The total delivered price of One (1) M Brace RCA unit is $30.00 for shipment to destinations within the United States. The total delivered price of Two (2) M BRACE RCA units is $50, which represents a $10 discount versus the delivered price of just one unit. Shipping and handling costs are *included* in the total delivered prices. I utilize U.S. First-Class Mail with Delivery Confirmation service. USPS 1st-Class Mail typically arrives in two to four business days including Saturday. I will provide you with the U.S. Mail tracking number so you can monitor the progress of the shipment to your delivery address.

When you order Three (3) M BRACE RCA units at one time, the price is $75 delivered and when you order Four (4) M BRACE RCA units, the price is $100 delivered. These higher-quantity orders are shipped via U.S. Priority Mail. The maximum dollar amount of an M Brace RCA order placed via credit card through PayPal is $100 for Four (4) M BRACE RCA units. International Orders of the M BRACE RCA are *not* available at this time.

For orders of more than Four (4) M Brace RCA units, you will need to place your order via Amazon.com.
---
BLACK - HEAVY DUTY - M BRACE RCA *ONLY*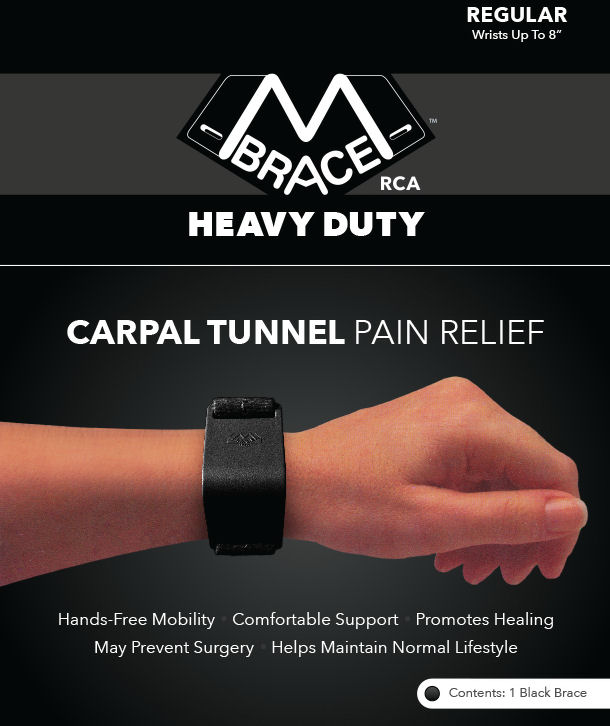 ---
---
Click Here to Return to Home Page
---
Contents Copyright 1998-2018 by WristPainCom, Inc. All Rights Reserved. The M BRACE RCA logo and the words "M BRACE RCA" and "M BRACE Radi-ul Carpression Angle" are trademarks of WristPainCom, Inc. WristPainCom, Inc. is the sole authorized global distributor of the M BRACE RCA. Click here to see legal notices and disclaimers. To send e-mail, click here.